School of Rural Management, one of the premier institutions of country offering master's in business administration in Rural Management (MBA-RM) has a glorious history of more than 25 years of imparting value-based education with the objective of inclusive business and sustainable development.
While following the Jesuit philosophy of 'Magis' we believe that real India resides in villages, and it is possible to grow and bring equitable development through need-based management education. Since its inception in 1995 in Xavier Institute of Management, Bhubaneswar (XIMB), our flagship program (MBA-RM) has been nurturing professional managers who have proven their mettle / worth in the field of business and rural development. Our school has a dedicated Doctoral (PhD) program which focus mainly on action and field-based research.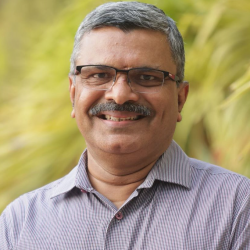 Dean Academics, School of Rural Management
Our school has a dedicated Doctoral (PhD) program which focus mainly on action and field-based research. Our innovative and practice-oriented curriculum includes rigorous field-based courses and real exposure of diverse rural milieus of country.
For our faculty research have been the core of their professional development. Their scholarly works have been published in International Journals of repute and are being used as the reference materials in teaching and trainings of corporate and development professionals.
We have strong mutual relationship with industries and internationally acclaimed development organization. It has helped us not only in outstanding placement of our graduates but also in continuous review and improvement of our courses.
The programs and courses offered by School of Rural Management are designed discerning the inspirations and needs of the rural producers and consumers and the various organizations working in the rural space. The teaching and learning canvas is woven by the threads of academic disciplines that provide insights into the fast changing rural ecosystem, growing business opportunities and the managerial and leadership capabilities required to plan, implement and manage business enterprises and organisations at all levels. School of Rural Management ensures that students of MBA-RM are sufficiently exposed to experience the powers and challenges of the rural communities in India. The 45 days long Rural Living and Learning Experience (RLLE), the course specific rural exposures and the organisational attachments in the form of Summer Internships are the hallmarks of MBA programme and make the Rural Management Degree a unique one.
Our MBA-RM has been recognised as the 2nd oldest Rural Management Program in the country. It is also ranked 2nd in India and ranked 15th in the category of Agribusiness / Food Industry Management by the Eduniversal Best Masters Ranking 2019.  RM program is known for its 100 percent placements since its inception.
School of Rural Management is a School with a difference actively engaged in the transformation of rural India in the spirit of  Magis.