ACTIVITIES BY RM ALUMNI STUDENT COMMITTEE
Details of the speaker and associated event:
On 4th March, Mr. Rajesh Pande, an esteemed alumnus of 2001-03 batch, founder of Bridal Safari and a portrait photographer by profession interacted with the students of the batch of 2018-20 in the Industry Connect Series organised by the Alumni Committee and shared his experience from the corporate world.
On 30th June 2019,  School of Rural Management had an esteemed opportunity to host Mr. Himanshu Rai and Mr. Ranjan Kumar Mohanty, for the first Industry Connect Talk for the Rural Management batch of 2019-21. A business development consultant by profession, Mr. Himanshu Rai is an esteemed alumnus of School of Rural Management of the 2011-13 batch and Mr. Ranjan Kumar Mohanty, currently serving as the Secretary cum CEO, PECUC Chairperson, NACG-EVAC (National action coordination group for ending violence against child).
On 8th of September 2019, School of Rural Management was extremely honoured to host Mr. Arnab Gazi, our esteemed alumnus from the batch of 2001-03 and currently working as the CEO at B3B Real Estate, for the 2nd chapter of the Industry Connect Talk Series for the batch of 2019-21.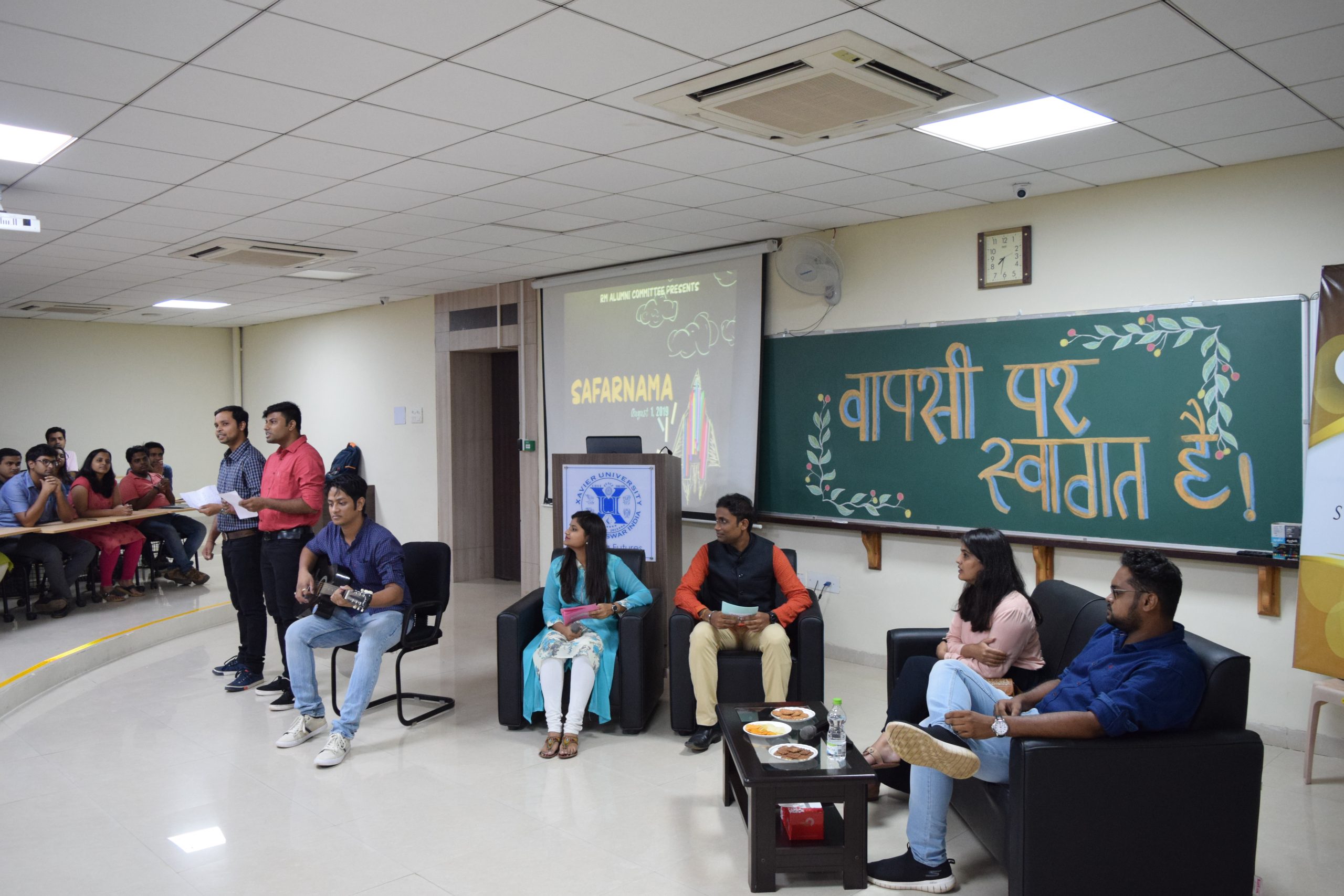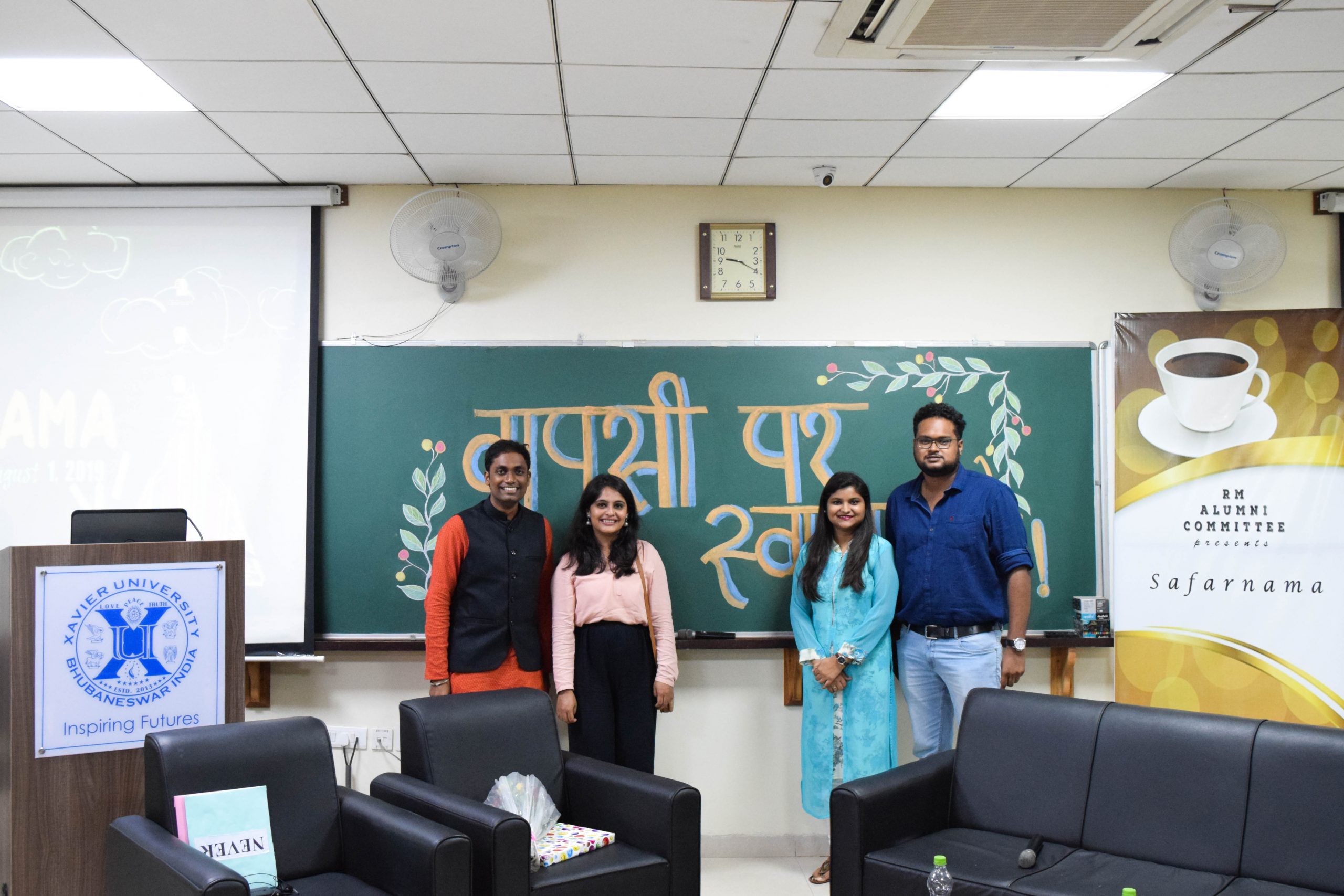 On 1st August 2019, the RM Alumni Committee had an esteemed opportunity to host XIM University's very own Mr. Sibasis Das and Ms. Anjali Sood, Batch of 2017-19, alumni for the first edition of Safarnama'19. Mr. Sibasis is the Director at Blitzkrieg Ventures Pvt. Ltd. Ms. Anjali is a young professional working at the Odisha Rural Development and Marketing Society (ORMAS).
The RM Alumni Committee of School of Rural Management, XIM University conducted its rural leadership summit at the New Campus, on October 13, 2019.
The theme for the session was, "Indian Economic Slowdown & Rural Scenario". The summit was graced by the esteemed alumni speakers and faculty members alike and was inaugurated by Fr. Donald D'Silva S.J., along with the esteemed speakers.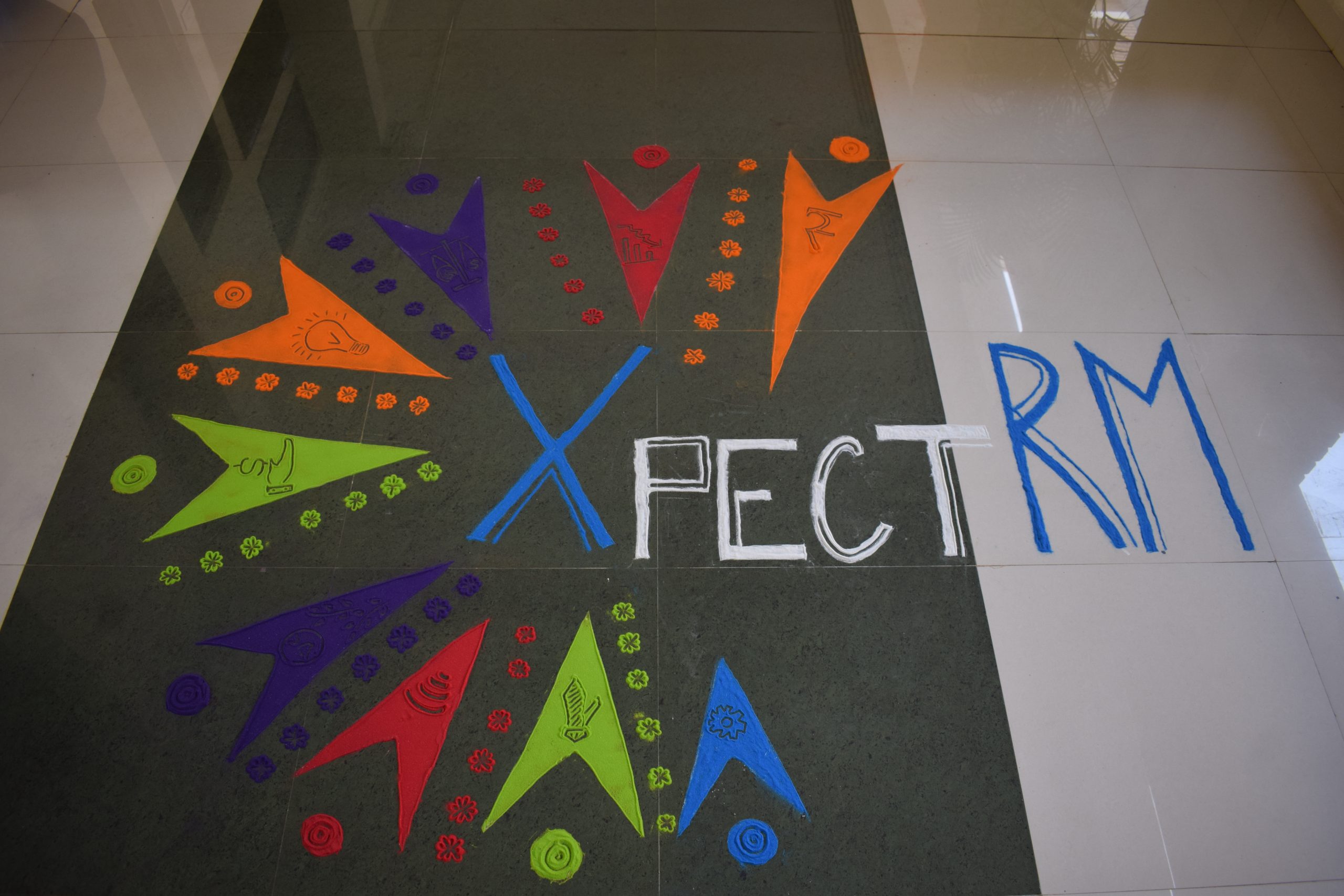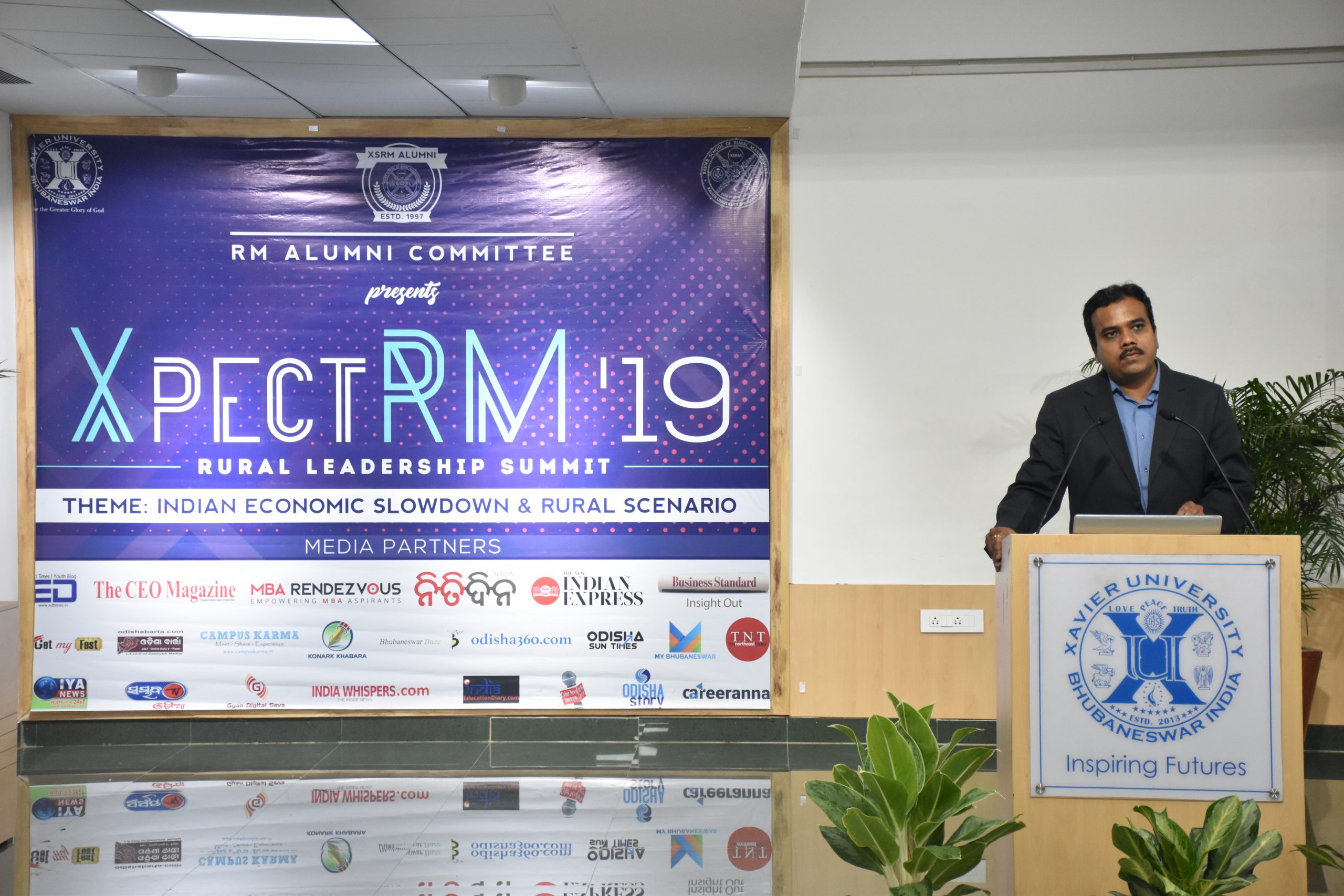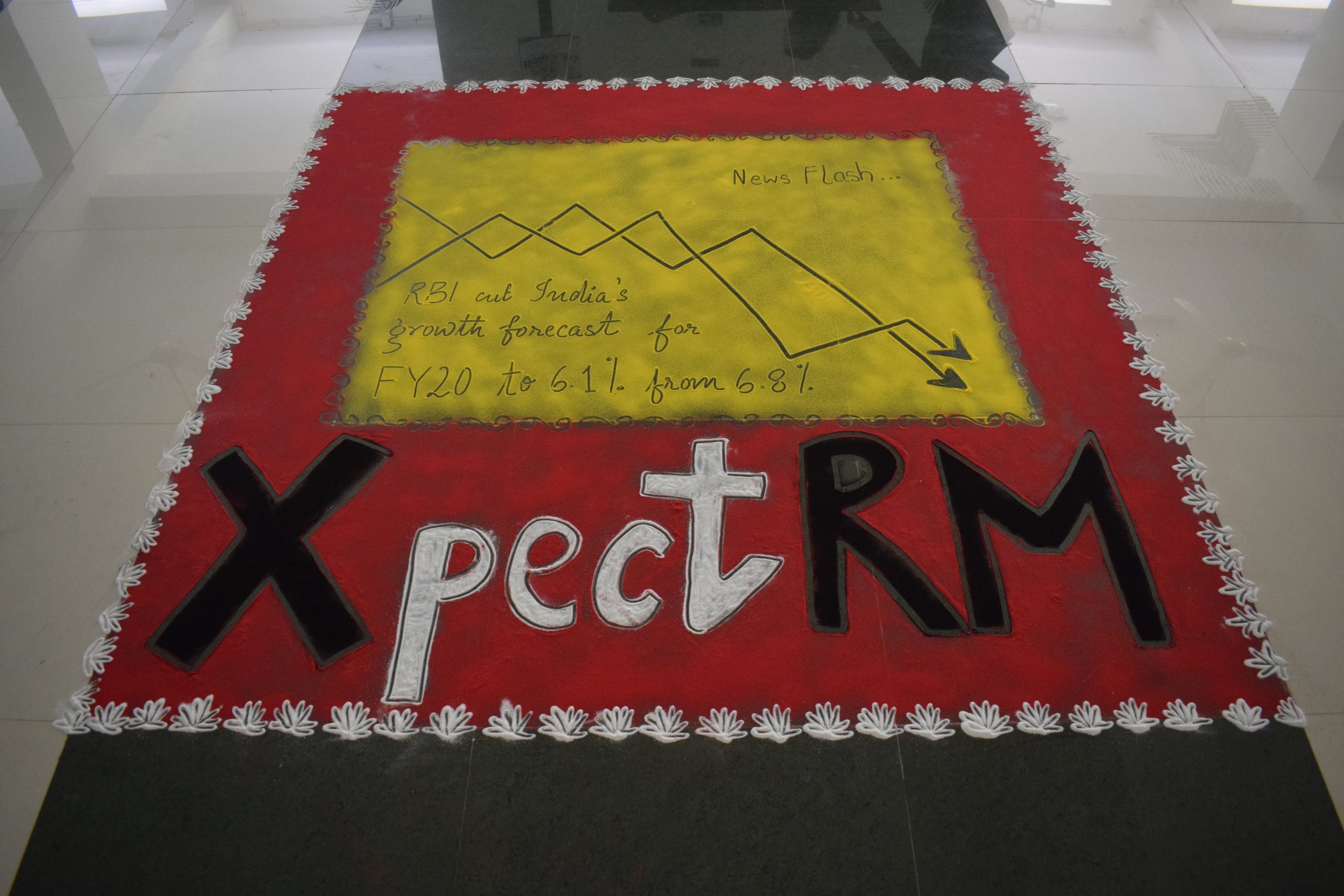 The XUBAA Alumni Meet 2020 was organised on 15 February 2020. We had three imminent speakers who had a vast job experience and could provide the students with insights about the industry – Mr Dhananjay Singh, Assistant Commissioner, IRS, Government of India; Mr Aditya Singh, Head – Jewellery International Business, Titan Company Limited; Niharika Sahoo – AGM, Jindal Steel and Power Limited. The maiden alumni meet aimed at building connections ad we are grateful to have received a great response from our alumni.
ACTIVITIES BY RMAX STUDENT COMMITTEE
Arijit Ghosh Memorial Quiz
Arijit Ghosh Memorial quiz is an annual Intra-University quiz competition organized in association with XQuizzite (The quiz committee of XIM University). This competition is organized in the loving memory of late Mr. Arijit Ghosh, an alumnus of the 2011 batch. Students from all the schools of XIM University in a team of two take part in this competition.
Vaktavya" is a national level debate competition conducted by RMAX of Rural Management every year; Students across from various B-schools at the national level participate and put forth their valuable thoughts and opinions on a given topic. In the last edition of Vaktavya students from reputed institutes including Indian Institute of Management Calcutta (IIM-C), Prin. L.N.  Welingkar Institute of Management Mumbai, Xavier Institute of Management (XIMB), International Management Institute (IMI) New Delhi, School of Rural Management, School of Human Resource Management, and various other B- School participated.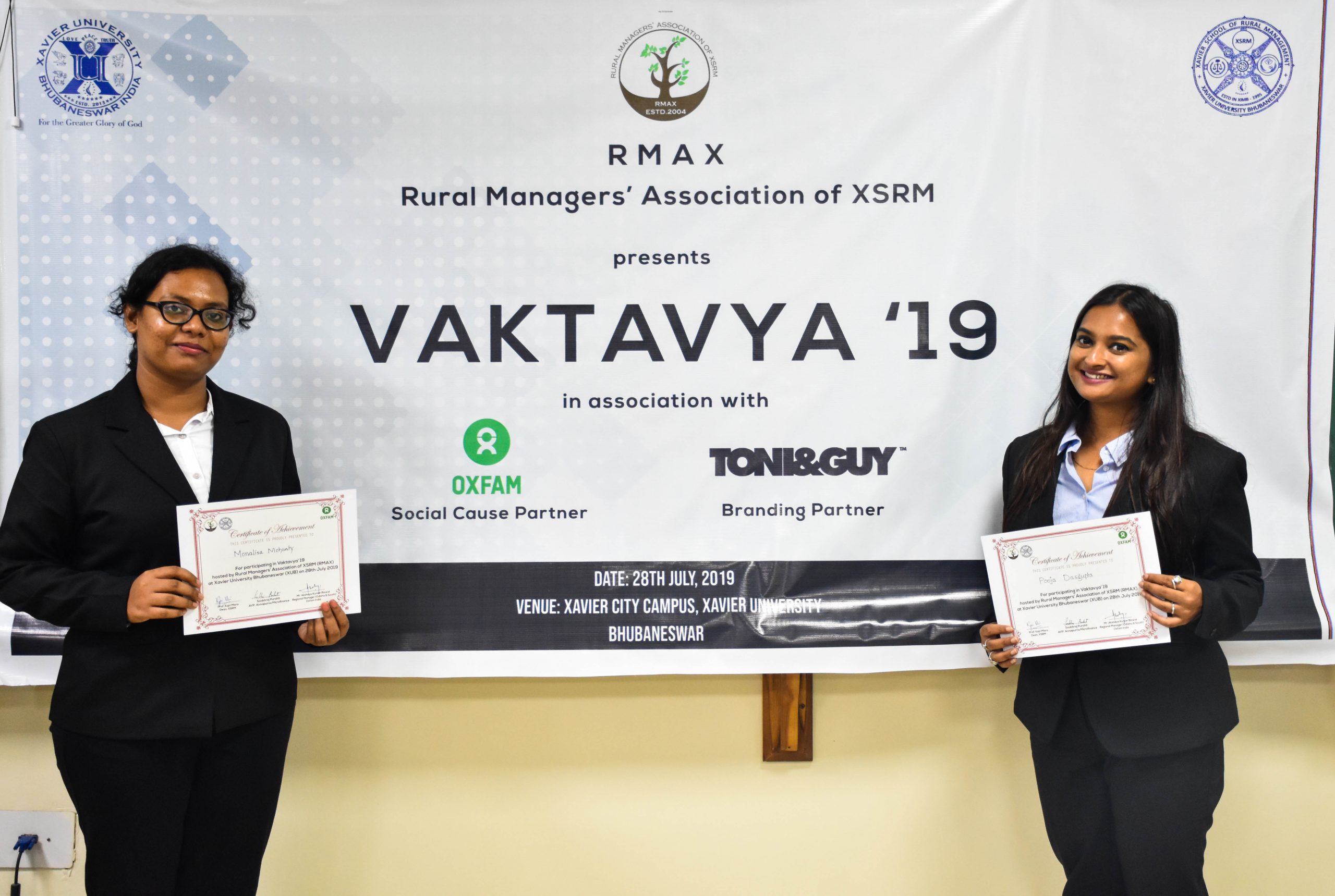 Abhivyakti is the Annual Rural Management Conclave held successfully on 18th August 2019. Last year it witnessed industry stalwarts in various fields such as development, Agri-business, financial inclusion, marketing, Consultancy, Insurance, etc. putting their words on the theme "Tectonic shifts in Rural Milieu."
This conclave witnessed personality like
Gramotsava, a Rural Marketing Fair organized by RMAX (Rural Managers' Association of School of Rural Management), is a flagship event of School of Rural Management. It aims to bridge the gap between rural and urban communities. It tries to identify the institutional voids in a village and strives to bring in relevant products and services from urban markets to bridge that gap, empower the villages, and make their everyday lives more comfortable. Last year, the theme was "Kaushal Gram" or "Skilled Village". For the year 2019, it was held for three days from 20th to 22nd September 2019 at Adaspur village, Cuttack.
Gramotsava attempted to raise awareness of the importance of self-employment and skill development. To cater to this theme, awareness programs like the Pradhan Mantri Employment Generation Programs, private financial service institutions like Ujjivan and Vistaar had their stalls set up on the field. Advanced agricultural tools like KAMCO Power Tillers were introduced this year. In addition to this, the rural communities were given a taste of some people-friendly brands such as Yamaha, Storia, TVS Scooters, and Hyundai.
A significant part of Gramotsava is creating a sense of connectivity between the rural management students with the village communities, in the form of field promotions, one-on one interactions, and marketing campaigns. Being a part of this two-day rural marketing fair gives the students insights into rural marketing and consumer psychology behind the purchase of products or services in villages.
Gramotsava and its preparatory phase bring all the students together, unleashing their creativity through art, music, dance, and street-plays.
Spardha, an Inter-College Social Business Plan Competition organized by team RMAX during Xamboree, the Annual Cultural Management Fest, organized by XIM University. RMAX has been organizing Spardha since 2008. This competition encourages students with innovative business ideas, plans, and methods to be implemented in the Rural Sector. It tests the social entrepreneurship quotient of participants through various stages in encompassing sectors that influence the rural scenario of India. Many teams from various colleges participate in the event and present their ideas to a panel of experts.
ThotBox, the motion picture club of the Rural Managers' Association of School of RM(RMAX),  creens quirky movies followed by discussion, that are thought-provoking majorly. These movies appeal to the moral sense and human values of the students. The prime objective of the club is to bring awareness among the audience over socially sensitive subjects, which we are hesitant to debate and discuss in public. It emphasizes to learn through contentions, deliberations, and dialogue. The movies are concerning Leadership, Religious beliefs, Feminism, Social, etc. which enables the students to learn and realize the grass-root level issues and realities. Post the movie screening, students are stimulated to put in their stand on and understandings from the movie, the importance of different characters in the film, the related impacts on the society, and the context of the movie. The whole activity is aimed at shedding light on the importance of thinking out of the box and developing the skill set to tackle the issues.
Live Projects are one of the best opportunities provided to MBA RM students from RMAX. Students get to know about real field experience before going for final placement. A live project is one kind of internship which provides students first-hand experience with real-time work experience, which they can relate with their classroom curriculum. On the other hand, a student can get the opportunity to study the different markets and different marketing strategies required to connect with the dealer, wholesaler, as well as consumers and the marketing strategies required to attract customers. To help students to get this kind of exposure, RMAX connects students with various start-up companies, organizations, and business firms to get live projects. Students work for this live project on a part-time basis by visiting different places and conducting one to one survey and then submitting all the deliverables required by the organizations in terms of reports after completing the work assigned to them at the end of the project.
List of Live projects undertaken for the year 2019-20: